Hotel Info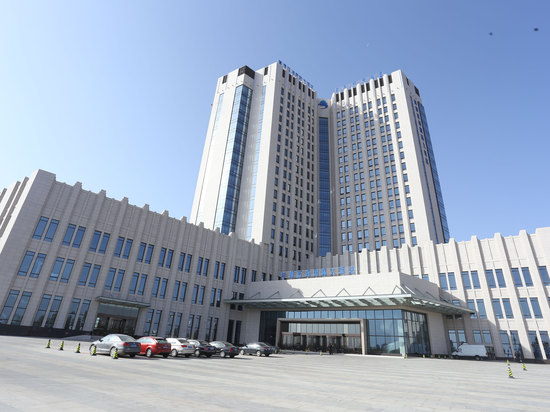 Blue Horizon International Hotel Berun Wulanchabu
is located in Jining New District of Ulanqab City, opposite to the new site of the municipal government, on the south side of the municipal government square, bordering Bawang in the East and Chahar East Street in the north, with beautiful scenery. From the high-rise, you can have a panoramic view of Ulanqab City, 5 minutes' drive from Victoria Moore city and Wanda Square; It's 10 minutes, 15 minutes and 25 minutes' drive from high-speed railway station, railway station and airport respectively. The traffic is convenient, elegant and quiet!
The hotel is developed and constructed by Boyuan group and managed by Shandong Blue Ocean Hotel Group. It is a comprehensive hotel integrating catering, accommodation, conference and sports. The hotel has 260 rooms of 9 types, which are divided into business floor and administrative floor. There is no interference between the guests, providing a quiet and comfortable environment for the guests.
The hotel provides free executive lounge integrating business, conference and leisure for guests of executive floors and suites.
The hotel has four dining areas with different styles, including yugefang banquet hall and zero point hall, zhongdinglou banquet hall, Chinese and Western Blue Diamond International Food Buffet Baihui restaurant. It can accommodate more than 650 people to eat at the same time, so that you can taste Chinese and Western dishes, and meet your different taste needs. The hotel has a multi-function hall for wedding banquet and a number of small and medium-sized meeting rooms for more than 15-600 people; The recreation area on the first floor is equipped with swimming pool, gym and other entertainment facilities.
Breakfast price
: CNY38($5.3) / person
Breakfast time
: 07:30-09:30
Breakfast type
: Buffet (Western, Chinese)